MENU_HELP - Help Screen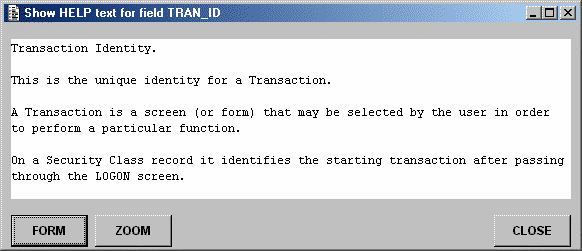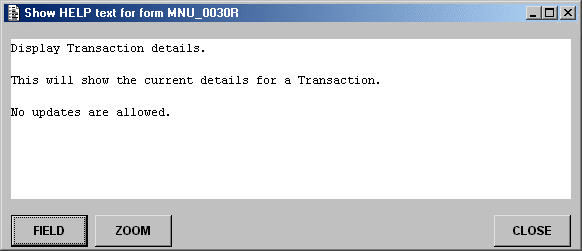 This screen is activated by selecting HELP on the pulldown menu, then SHOW HELP. It can also be activated using the shortcut key Ctrl+H (check your keyboard map in case this has been changed).
It retrieves data from the help file (as created by transaction MNU_9000) keyed either by the name of the current field, or the name of the current form.
The initial display is for FIELD text. The user can toggle between FIELD text and FORM text simply by pressing the same button. The button label will change accordingly, as will the contents of the title bar.
This screen is display-only.
Alternatively help text can be maintained in a series of HTML files. These will be accessed at run time provided that the source directory has been identified by an entry in the [logicals] section of the assignment file.
BUTTONS
| | |
| --- | --- |
| Form | Retrieve text for the current form (changes label to FIELD). |
| Field | Retrieve text for the current field (changes label to FORM). |
| Zoom | Open up a bigger dialog box to show the available text. |
| Close | Return to the parent form. |
---