MNU_9000 - Maintain Menu Help Text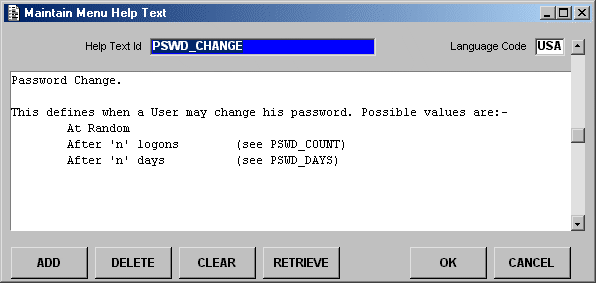 This allows the system administrator to maintain the text that will be available whenever online help is requested. This will be displayed using form MENU_HELP.
Alternatively help text can be maintained in a series of HTML files. These will be accessed at run time provided that the source directory has been identified by an entry in the [logicals] section of the assignment file.
| | |
| --- | --- |
| Help Text ID | The name of a form, or a field within a form. |
| Language | Language code. Default is "USA" |
BUTTONS
| | |
| --- | --- |
| Add | Create an empty occurrence ready for new input. |
| Delete | Delete the current occurrence. |
| Clear | Clear the screen and place the cursor on the top line ready for new input. |
| Retrieve | Retrieve entries using the selection criteria contained in the top line. |
| OK | Update the database and return to the parent form. |
| Cancel | Exit without updating the database. |
---