MNU_0090L2 - List Duplicate Sessions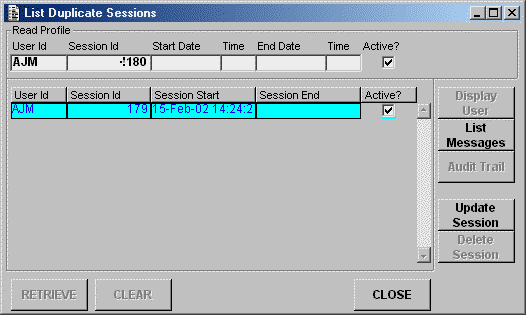 This is a version on MNU_0090L which is automatically activated after passing through the LOGON screen. It shows if there are other sessions which are still marked as active for the current user.
You will notice that the retrieve profile has been automatically set to retrieve active sessions for the current user, but excluding the current session. The CLEAR and RETRIEVE buttons are decativated as it is not possible to enter a new profile.
Certain navigation buttons are also deactivated in this version as they are not applicable. If access to transaction MNU_0090U is granted then this will enable the user to update any previous sessions by marking them as inactive.
BUTTONS
| | |
| --- | --- |
| Close | Exit this transaction. |
| Update Session | Runs form MNU_0090U |
---